7 Ways to Create Kitchen Storage, Very Clever!
Who doesn't need more storage in the kitchen? You may not have a massive space with dozens of cabinets and yards of counter-tops, but that doesn't mean you don't have the space you need to store all your stuff. Use a few of these clever tricks and you might be surprised how much extra room you can create.
How to Choose a Kitchen Sink, According to Science – 8 Factors to Consider
Dining table storage
Getting creative with your dining space doesn't have to mean adding another piece of furniture. In a smaller space that can't accommodate a server or sideboard, how about a table with hidden storage under the eating surface?
Spice it up
Limited cabinet or counter-top space can make it hard to store and view your spices, but a simple drawer hack can change that.
"Storing spices in a drawer rather than a wall-mounted rack ensures seasonings are handy for cooking while preserving their delicate flavors by protecting them from sunlight, moisture and heat," said HGTV. Use the $3.99 VARIERA spice insert from IKEA for an inexpensive solution.
Don't have space for the wine cellar you want? Build a cool wine rack right into your island.
A small pantry space can be difficult not just from a space perspective but also because a narrow but deep space can make it hard to see what's there and access all of your goods. For as little as a couple hundred dollars, you can transform your pantry into a pull-out, which maximizes your space and gives you easy access to everything inside.
Add a retractable pot rack
Perhaps the issue isn't so much about lack of space but lack of usable space when it comes to your pots and pans. Oftentimes, the cabinet intended for these items is one large box that makes it hard to keep the area neat and be able to easily find what you need without making a bigger mess. This DIY rack solves that problem and frees up space at the bottom of the cabinet for other items.
Don't have the space for all your pots and pans in a cabinet? Many homeowners choose to go the overhead pot rack route, but, if you don't have the headroom for that or just don't care for that solution, how about this one: "A floating shelf (that) can also double as a floating pan rack," said Architecture Art Designs. Not only does this allow
you to display your nice cookware prominently and keep it within easy reach while bringing in a natural element, it's perfect for a space in need of a focal point.
Banquette storage
If you're doing a custom banquette, it's easy enough to incorporate drawers underneath – the perfect place to keep all those things you don't need every day but don't want to store in the garage, like fancy dinnerware and silverware, tablecloths, and holiday serving pieces.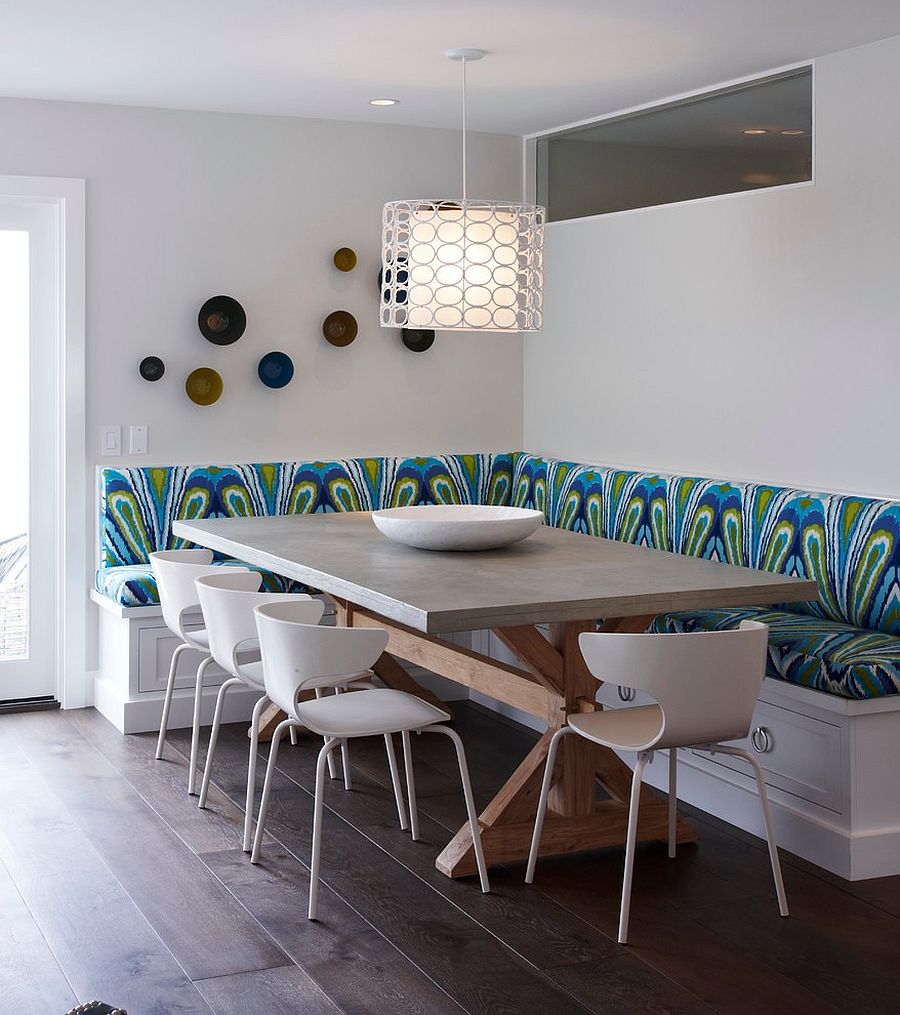 Easily accessible drawers that slide out from the end also make a great place to keep kids' art supplies.

You can also buy ready-made pieces for your dining room or breakfast nook, like this bench with a seat that lifts up to accommodate your storage needs.